Building a brand Cannabis display system from the ground up
---
The Challenge
Sessions Cannabis wanted to create a functional, memorable look and feel for their cannabis store fixture and display systems—one that customers could easily recognize no matter which Sessions Cannabis store they chose to visit. It was important to create a sense of professionalism, product knowledge, and selection while allowing customers to move freely around displays and interact with staff. The goal was to create brand appeal that we could roll out into all subsequent stores.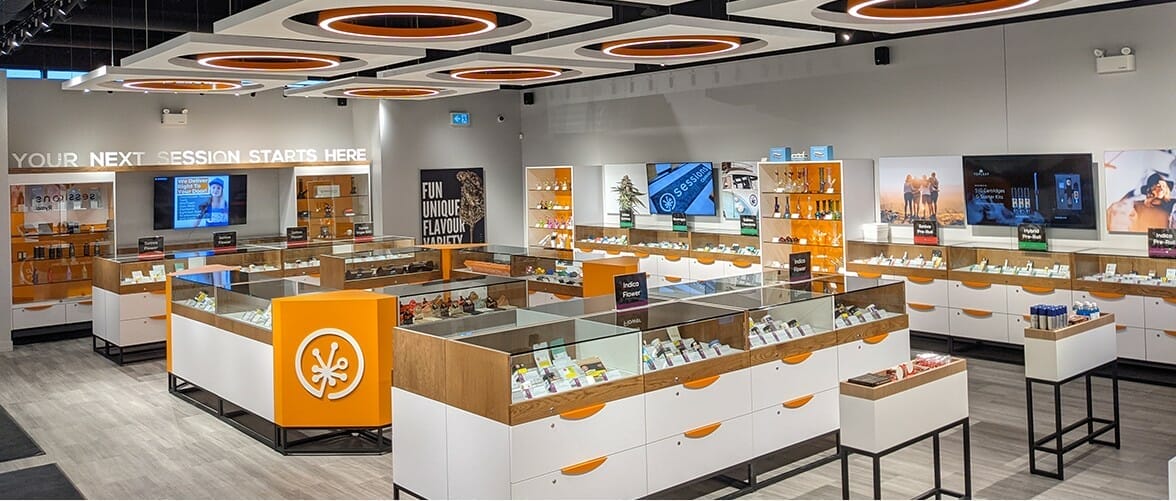 ---
The Solution
DNS met with the dedicated Sessions Cannabis team to discuss their specific needs and come up with a display system for their prototype location—including cannabis store fixtures, lighting, and signage. The goal was to design, test, manufacture, and install displays that could then be streamlined for all new Sessions Cannabis shops. These also had to take into consideration the specific, legal ways that cannabis products needed to be displayed—all while remaining inviting and encouraging interaction.
A team of designers, a project manager, and production specialists worked together to come up with an innovative, high-quality global cabinet strategy that met the clients' specific product and customer-service needs, and enabled the brand to roll out cannabis store fixture and display uniformity from store to store. This meant customers could recognize the Sessions Cannabis brand no matter what store they shopped at, and helped to build a sense of loyalty.
What's more, this streamlined process resulted in a significant decrease in production, material, and installation costs, and cut down on production time.
---
The Partnership
From the start, the partnership between DNS and Sessions Cannabis was built on mutual trust and open-mindedness. Working side by side with our client enabled DNS to understand their specific product line and needs, and from there bring ideas to the table that provided real solutions to their cannabis store fixture and display challenges. Investing in this project with ideas, solutions, and innovation allowed us DNS to prove our ability to be a consistent and reliable partner—one that was entrusted with the task of carrying the new brand look and feel to all subsequent Sessions Cannabis stores.